Need a Custom Structure? Contact APC today!
3 September 2019
APC understands every project is unique and as such we approach each job we undertake with a clean slate. Dependent on our client's needs and the space being used, we can engineer customised steel structures for a variety of purposes.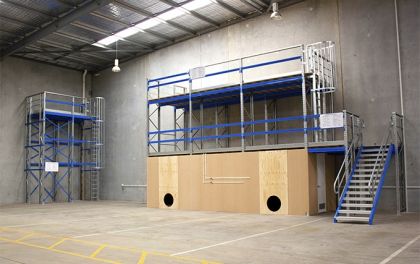 Recently, we worked with Pinnacle Safety and Training who specialise in safety training and other related services. Having worked with the client closely for the development and installation of purpose-built structures in other locations, APC was approached for the design and manufacture of two custom-built steel structures for Pinnacle's new facility.

The facility will benefit WA's employers and workers in the rescue, mining, telecommunications and construction sector. The structures will aide in a full range of safety courses including height safety, confined space entry and rescue training.
Our solution to Pinnacle's proposal involved the design of two steel structures, approximately 6.2 meters in height. The first structure is built to accommodate rope and harness related activities and features parallel flange channel beams underneath with ringbolts for the attachment of harnesses. In the event of a fall, the harnesses spring-loaded attachment can exert a substantial amount of force onto the beam and structure. To ensure the stability of the structure and the safety of the participants, our in-house engineering team used the latest structural analysis software to idealise the beam. By analysing internal forces such as axial force, shear force, stress and strain deflection in a structure under applied load conditions, the ringbolts have been attached to the beam in specific points where harnesses can be used safely. The second structure has a hatch on both levels leading to an enclosed area below for the centre's confined space training course. This structure will also be used for rope and harness related activities.
Our in-house engineering team worked closely with the client to design and build functional structures to accommodate the height, safety and confined entry training. All structures designed and built by APC conform to relevant Australian Standards.
APC specialises in more than just standard storage systems and can engineer customised steel structures for a variety of purposes.
Have a project in mind? Contact us today!