APC Local Manufacturing
8 June 2020
APC is passionate about local manufacturing. We believe local manufacturing comes with lots of benefits including the support of local jobs, reduced lead times and a reduction in the environmental footprint.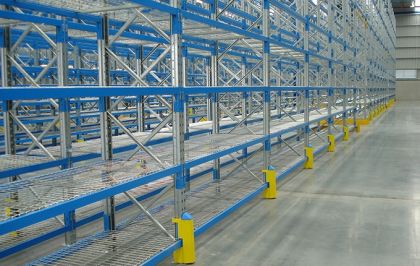 Local manufacturing also means that products are designed in accordance with local requirements that suit local conditions, and these can be more readily and efficiently customised to the exact requirements of our customers.

APC's steel shelving, Uni-Shelf® is manufactured in Australia from pre-coated high strength steel which is supplied as double sided Colorbond® produced by BlueScope Australia. The material used is fully recyclable and locally sourced. Uni-Shelf® has been manufactured by APC for over 25 years and has been sold throughout Australia and exported to many destinations overseas throughout this period.
Uni-Shelf® components are shaped using a number of different processes - either cold roll formed or cold pressed. For the roll formed components pre-coated steel is fed through a series of rollers into its final shape after passing through a series of automated punches. For the pressed components the material passes through a series of automated notching and punching tools before entering a series of automated bending machines. Component size and quantity is entered into the CNC operating software to control output and accuracy. Each processing line is fully automated which means that pre-coated and coiled material enters at one end of the line and finished components are stacked at the other end without any need for manual handling of the product during the manufacturing processes. The specific qualities of the pre-coated steel used by APC provides high yield and tensile strength to the finished product as well as a hard wearing and smooth finished surface.
Compared to conventional cutting and bending operations our manufacturing processes have several benefits:
Because the steel is coiled (each coil can contain one kilometre of material) and fed through the processing line, any length can be produced. This allows APC to customise our shelving to meet the needs of our customers by producing any desired length.
The speed and continuity of roll forming and automated bending means APC can produce high volume orders at consistently high rates of production and quality levels, ensuring our customers receive their orders faster and at a much higher quality.
Punching, notching and perforating are incorporated into the production line eliminating operator errors and the need for secondary operations. This ensures a completed product ready for distribution in less time.
The special high strength pre-coated steel used by APC has a zinc coated substrate that is then painted in an automated and controlled process by the material supplier. This process not only helps to reduce the supply time to our customers, it is the same formula used to provide coated steel roof and wall products to the building industry and hence, the surface finish is tough and durable, as well as being highly resistant to corrosion.
APC's Uni-Shelf® is a versatile modular system that is easily added to or reconfigured making it ideal for a wide variety of storage and display needs. With each shelf capable of carrying loads of up to 200 kg (UDL), the system is useful for storing archive boxes, files, spare parts inventory and can also be used for product display. Parts trays or dividers can be added to enhance the versatility of the system. The combination of durability and aesthetics makes it suitable for both warehouse and office storage environments. Uni-Shelf® is commonly used with our mobile shelving systems (Aislesavers®) and can also be used with a wide range of accessories such as pull-out reference shelves, file racks and bin fronts.
We're proud to be a local manufacturer and are continually investing in new equipment and technology to meet the demands of our customers and to keep up with the relevant industry standards. For more information about APC's manufacturing capabilities click here.