APC Warehouse Benches | More Than Just Racking
18 June 2020
APC's Work Bench is a versatile system that can be utilised in a range of environments. An engineered storage solution that ensures the units strength and versatility, with a range of customisation options to further increase its versatility.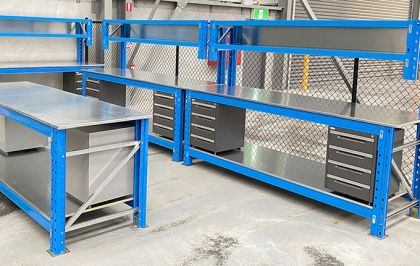 APC is renowned for the complete Warehouse Design and Engineering Services delivered to our clients. Engineered, designed and manufactured in Australia, APC delivers structures for all purposes, including but not limited to racking solutions, shelving, platforms, raised storage areas and unique automation support structures.
APC offers a range of accessory products to further enhance the efficiency and storage capabilities within your warehouse space, including our cabinets and workbenches.
APC's Work Bench is constructed from APC Pallet Racking to ensure its strength and versatility. The bench can be used for many applications and can be customised to further increase its versatility and include elements such as additional shelving, integrated cabinets, different finishes, mobile and fixed versions, amongst others.

For more information on APC's Work Benches click here, or get in contact with our team to discuss how we can engineer a storage solution for your needs.