How to Design the Perfect Warehouse Layout
24 January 2020
APC have put together the fundamental elements you need to know to successfully plan and layout your warehouse – whether new or existing.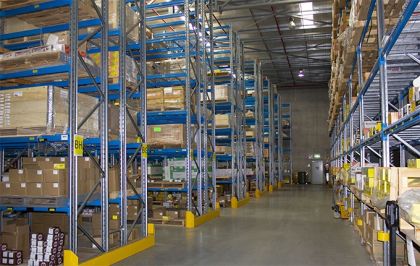 When it comes to running your business, designing your warehouse layout is often the highest priority, and for good reason. Ensuring your warehouse is mapped out for maximum productivity and efficiency is ultimately the foundation for your future success.

Tackling the responsibility of designing a new warehouse is not something a new business should jump into without caution. It is important to understand it is never too late to revamp or redesign an existing warehouse space if it is not contributing to your operations.
Here are the fundamental elements you need to know to successfully plan and layout your warehouse – whether new or existing.
Starting from a Blank Canvas
There are three critical elements to consider when preparing to design a new warehouse layout: flow, accessibility and space.
Flow: It is often tempting to try and fit as much racking and shelving into your warehouse as possible, but it is important to take into consideration your staff and machinery. It is essential for warehouse efficiency that they are able to move freely through your warehouse, with minimal delays or obstructions. Strategies, including designing the warehouse layout to have workers stationed close to the materials they will need to access frequently and determining set traffic routes that do not collide with one another, can help improve the warehouse flow.
Accessibility: Many warehouses lose out on maximising their output as valuable time and productivity is lost when their workers cannot access materials when they need to. This can be greatly minimised by avoiding storing one item of stock behind another, which leads to unnecessary handing. Tying into the flow of the warehouse, your warehouse's pallet racks should be designed in rows wide enough to accommodate your forklifts and pallet jacks, to make accessing stock simple and easy.
Space: Many new warehouse owners get fixated on the amount of horizontal floor space, but it is also essential to consider the vertical space available in your environment. You may have a range of solutions available to you, including adding Mezzanine floors.
Putting your Plan into Action
Before you even consider purchasing any infrastructure, storage or racking, you need to get your plan down on paper. By drawing a detailed blueprint, you can ensure your warehouse needs are being met, whilst also meeting the guidelines above. This will give you a clear perspective of what you will need, where it is going and how it will work within the system of your warehouse.
Use this process to ensure all of your measurements are accurate, as even a couple of centimetres of error can cause major problems with the final design. This applies to both the blueprint design and the placement of the physical product.
Planning, designing, engineering and installing a new warehouse design can be an intimidating task. APC's specialist consultants are here to help simplify this process by identifying opportunities within your warehouse operation to improve efficiency and performance.
Click here for more information on our warehouse designing process and how it can benefit you.