Expand Your Warehouse with a Mezzanine Floor
19 May 2020
Mezzanine floors are an economical way of increasing usable floor space within your warehouse, taking advantage of unused vertical space. APC Mezzanine solutions can be configured for a range of storage requirements, from bulk storage, order picking or even building a raised office space.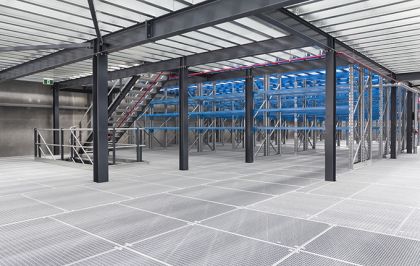 When inventory space begins to fill up, many businesses look into new warehouse locations to fulfil their space requirements. Before this decision is made however, it should be investigated if your current space can be better optimised for the storage space you require.

Racking Supported Mezzanine
APC's racking supported mezzanine offers a raised storage area that is integrated into APC racking and is also compatible with APC Uni-Shelf and Uni-Span. These raised storage areas are designed in a way to optimize the vertical space of your warehouse, which can be developed into multi-tiered levels that offer double or triple the return on floor rates. This mezzanine system is designed to be integrated with chutes, conveyors, automated systems and pallet access gates to ensure the system provides the highest level of efficiency and functionality.
Structural Mezzanine
APC's Structural Mezzanine is a heavy-duty system constructed from structural steel. This steel allows for wider column spans that are not obstructed. Similarly, to APC's Racking Supported Mezzanine, this mezzanine floor can be designed into a multi-tiered system and be integrated with chutes, conveyors, automated systems and pallet access gates.
If you're looking for a cost-effective and versatile storage solution to expand your usable warehouse space, APC mezzanine solutions can help maximise your storage capacity and efficiency. Click here to get in contact with our team today and discuss what solutions may be right for you.